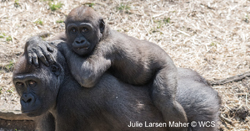 More gorillas are dying than ever before. Without urgent intervention, we could easily see gorillas slip away into extinction.
That's why we need your help – today.
Your donation today provides training and equipment to rangers to keep poachers at bay, establishes and maintains protected areas in the most important places for gorillas' survival, and advocates for the effective, science-based strategies we know will save gorillas and other wildlife.
Please, make your urgent, tax-deductible gift to save wildlife like gorillas!