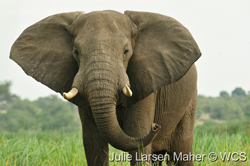 $60,000 by Wildlife Conservation Day
This holiday season, elephants, tigers and gorillas don't need gifts like mittens or scarves: they need protection from the humans who are driving them and other species to the brink of extinction.

To help give them the future they deserve we set a goal of $60,000 by December 4, Wildlife Conservation Day.

Your tax-deductible gift Wildlife Wish List gift provides training and equipment to rangers to keep poachers at bay, establishes and maintains protected areas in the most important places for species' survival, and many more effective, science-based strategies to save wildlife.

Please don't sit this one out: Wildlife Conservation Day is Monday and elephants, tigers and gorillas are counting on you.